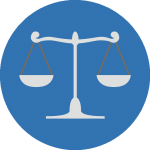 Sound decision-making is ethical decision-making. We adhere to the Financial Planning Code of Ethics, shown in the seven principles below. That's why you can trust us to deliver all of our financial planning services in accordance with the following standard of care.

Integrity
We stand by what we say and hold ourselves to the highest moral principles.
Objectivity
We present our own expertise without judgment or bias.
Competence
Decades of experience and knowledge mean we can support your success with skill and efficiency.

Fairness
We pledge to deliver our services with fairness and reason, and disclose any conflicts of interest.
Confidentiality
We treat your information with the privacy and discretion with which we treat our own.

Professionalism
You'll experience nothing short of exemplary professional conduct.

Diligence
We work persistently and with the utmost care to ensure that what we deliver is of the highest quality.
Are You Ready To Get Started?
Let's have a conversation. We want to talk with you about your needs, goals and concerns, and we want to take the first step toward providing you with the sense of security you deserve. Call or email us today to get started.